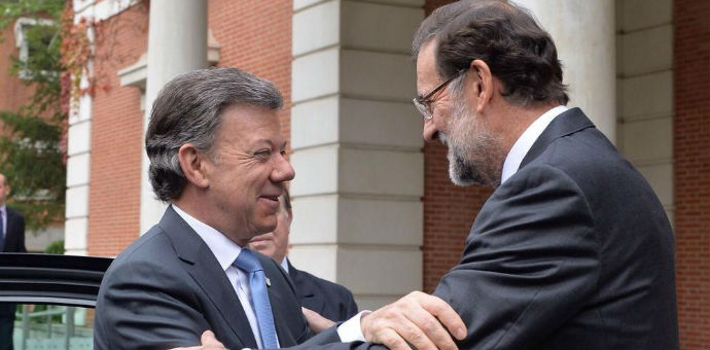 EspañolColombian President Juan Manuel Santos set out for Europe on Monday, November 3, in an attempt to rally political and financial support for the final round of peace talks with the Revolutionary Armed Forces of Colombia (FARC), and the ensuing post-conflict reconstruction process. The president's tour includes visits in Spain, Belgium, Germany, Portugal, France, and the United Kingdom.
On Monday, Santos was welcomed to Madrid by Prime Minister Mariano Rajoy and King Felipe VI of Spain, before continuing on to Brussels where the European Commission presented its proposal to fund post-conflict reconstruction in Colombia.
During his five-day tour of Europe, Santos will also meet with Prime Minister Charles Michel and King Felipe of Belgium, German Chancellor Angela Merkel, French President François Hollande, British Deputy Prime Minister Nick Clegg, and President Anibal Cavaco Silva and Prime Minister Pedro Passos Coelho of Portugal.
Acto de investidura de Doctor Honoris Causa del Presidente @JuanManSantos. Un honor pronunciar la Laudatio pic.twitter.com/PsDyeA3g5f

— Mariano Rajoy Brey (@marianorajoy) November 3, 2014
Presentation ceremony of honorary doctorate to the President @JuanManSantos. An honor to deliver the award.
Soon after his arrival to Spain on Monday, Camilo José Cela University awarded the Colombian president an honorary doctorate for exceptional governance. During the presentation ceremony, Mariano Rajoy declared Santos to be a great statesman who knows how to take "the path that corresponds with great nations at the crucial crossroads."
Peace Negotiations Relying on Political Support
Juan Manuel Santos made it clear that the Colombian peace process must garner "international legitimacy" to be successful, and that political support from allies will play a key role in ongoing negotiations between the government and the FARC in Havana, Cuba. So far, negotiations between the two sides have achieved some progress, with agreements reached on land reform, reduced drug cultivation, and FARC's political participation in the Colombian state.
"We have yet to resolve the two most difficult points: victims' rights and transitional justice. Where we draw the line between justice and peace will define the end of this conflict, and it has a lot to do with what the experts call DDR," explained Santos, referring to the disarmament, demobilization, and reintegration of the guerrilla into civilian life.
"On the topic of DDR, there is usually some sort of international presence, or international guarantee, that oversees the process. This is also something for which we are rallying international political support," said Santos. "The decisions that will be made with respect to the victims will require legitimacy throughout the international community. We are seeking political support for this reason, to ensure that whatever decisions Colombia makes are backed by the international community," he added.
International Recovery Fund for Colombia
With regard to post-conflict reconstruction, Santos has said that he will ask EU members to contribute to a fund dedicated to this purpose. "We are not yet asking for resources, but that sufficient steps are taken to legally constitute a fund that will be one of the funds used to finance post-conflict recovery," said the president.
We are not yet asking for resources, but that sufficient steps are taken to legally constitute a fund that will be one of the funds used to finance post conflict recovery.
The president of the Committee for Peace in Colombia, Roy Barreras, estimates that post-conflict reconstruction costs will reach COL$90 trillion (approximately US$45 billion). The United Nations has demonstrated its willingness to contribute financially to this objective, and Santos now seeks to secure support from the European Union. Although it did not specify the amount, Spain has confirmed it will provide financial assistance, as well as human resources dedicated to maintaining the peace.
On Wednesday, October 29, the European Union announced its signing of 10 international cooperation contracts with Colombia, providing the South American country with roughly COL$35 billion (US$18 million) to aid peace-time projects under the New Territories for Peace program. These contracts constitute roughly 50 percent of the European Union's financial contribution to Colombia thus far.
Colombian Peace, Global Importance
In an opinion column titled "Peace for Colombia Is Peace for the World" published in Spanish newspaper El País, Santos responded to the question: Why is peace in Colombia important for both Europe and the world?
If successful, Santos argues Colombia will become an example for other nations as the first country to negotiate peace under the Rome Statute, an international legal treaty that allows for the prosecution of crimes against humanity.
If we have achieved so much while embroiled in armed conflict, imagine what Colombia could accomplish in peace.
"Silencing the guns mean the recovery of huge tracks of rural Colombian land. Colombia, which is slightly larger than Spain and France combined, is considered by the FAO [UN Organization for Food and Agriculture] to be one of eight countries in the world capable of significantly increasing its food production. Once our recovered lands begin to produce again, we will be in a position to contribute more meaningfully to world food security," said the president.
Santos assured his European audience that the prospective peace agreement will reduce the amount of cocaine entering Europe, while simultaneously increasing business opportunities for the European Union in Latin America. "If we have achieved so much while embroiled in armed conflict, imagine what Colombia could accomplish in peace," said Santos.