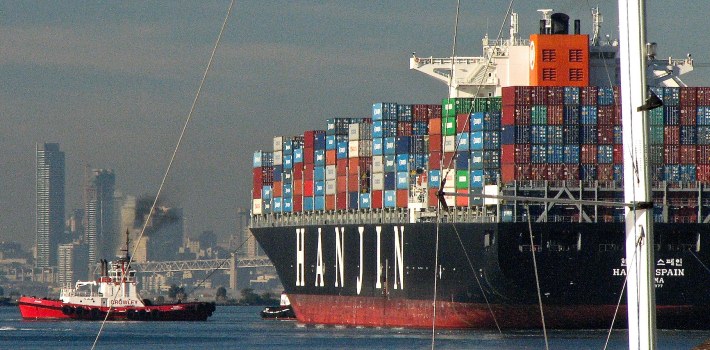 EspañolAccording to a new Transparency International report, titled "Exporting Corruption," a number of countries around the world are failing to prevent companies from engaging in bribery and corruption. The report provides an update on the implementation of an anti-bribery agreement reached by OECD member states.
The Convention on Combating Bribery of Foreign Public Officials in International Business Transactions was adopted in 1997 and entered into force in February 1999. As part of the agreement, 41 signatory countries committed themselves to investigate and prosecute bribery of foreign officials in an effort to obtain contracts, licenses, and other business concessions.
According to the report, only four of the 41 countries are actively investigating potential cases of corruption: the United States, Germany, the United Kingdom, and Switzerland; five countries — Italy, Canada, Australia, Austria, and Finland — were identified as doing moderately well at enforcing the law; and only eight countries — France, Norway, and Argentina, among others — are making a limited effort to prevent corruption.
The report identifies 22 countries — whose exports make up 27 percent of the global total — as doing little to nothing to combat international corruption, including Japan, the Netherlands, Chile, Mexico, Colombia, Brazil, and Spain.
A country must take legal action in courts with sentencing power to be placed in the "active enforcement" category. "Moderate" and "limited enforcement" labels are reserved for countries that have initiated legal processes, but not to the extent that the effort will actually result in a completed legal process. The report uses the term "little or no enforcement" to describe countries that have not made an effort to prosecute a single company.
"For the anti-bribery convention to achieve a fundamental change in the way companies operate, we need a majority of leading exporters to actively enforce it, so that other countries will be pressured to follow suit," said newly-elected Transparency International president, José Ugaz. "Unfortunately, we are a long way from that tipping point, and that means the vision of corruption-free global trade remains far away."
The report claims current efforts toward fulfilling the convention's mission are weak, given that investigative bodies lack the resources and political support necessary to monitor large companies, especially in countries where economic interests outweigh anti-corruption agreements. The report also notes prosecution of crimes such as money laundering is a complicated process, especially when shell companies are involved.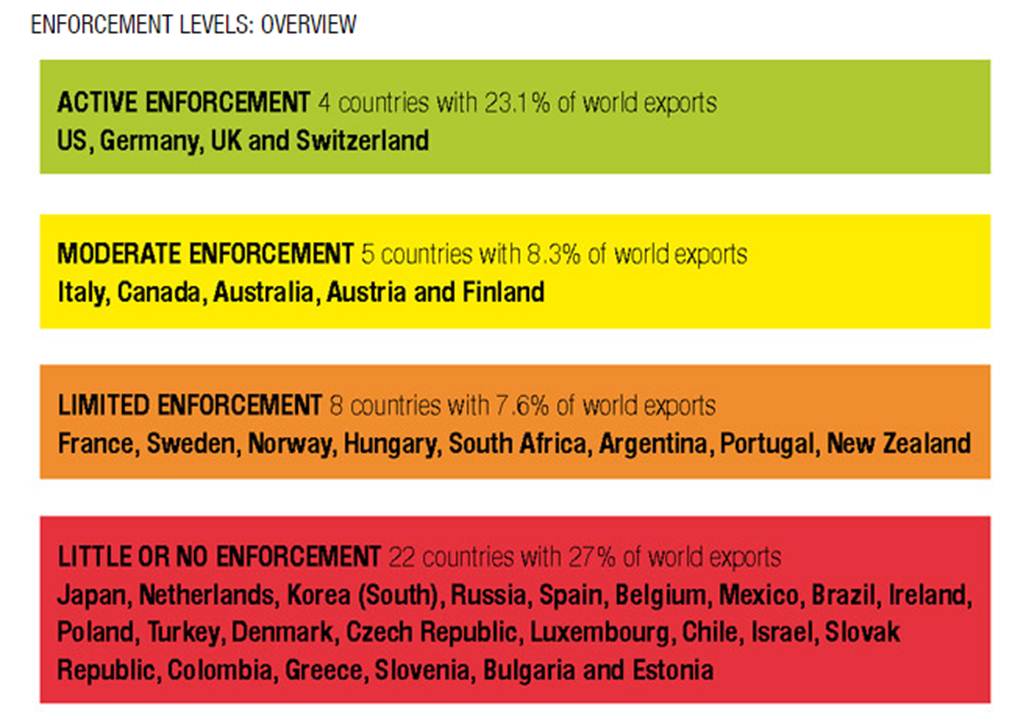 "Fifteen years should have been enough to enforce these commitments. The OECD has worked hard to make the convention a powerful tool and pushed governments to adopt tough laws. Now it needs to make sure that enforcement authorities have all the support they need to counter the growing power of cross-border crime networks," Ugaz said.
Latin America has few tools to combat corruption. Argentina (0.4 percent of global exports) was the highest-rated country in the region, receiving the "limited enforcement" classification, while Brazil (1.3 percent), Mexico (1.7 percent), Colombia (0.3 percent), and Chile (0.4 percent) were all classified as countries that make no effort to prevent corruption.
The Key to Preventing Corruption
Transparency International recommends that OEDC member-states increase funding and personnel dedicated specifically to anti-corruption efforts. The organization says robust monitoring programs are also an essential component of keeping civil society involved and interested in the issue.
The report also recommends that governments respond to concerns over the lack of transparency of legal proceedings. In many countries, information regarding judicial processes is not available to the public, creating a climate that is not suitable to the investigation of potential cases of corruption.