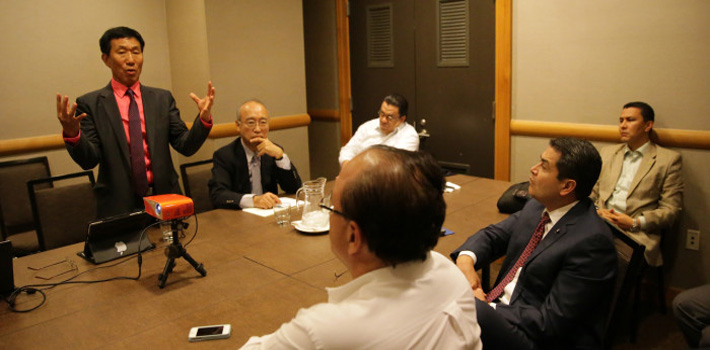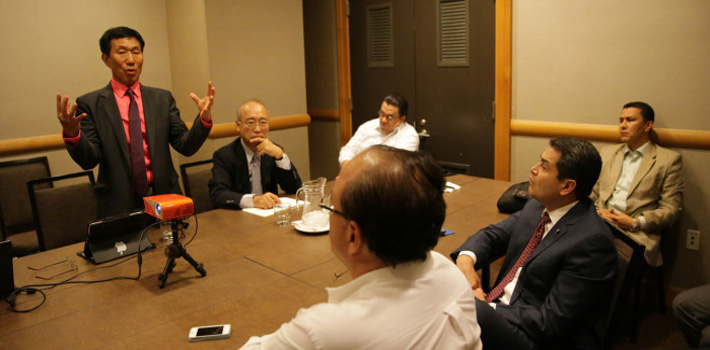 EspañolExperts from the Korean International Cooperation Agency (KOICA) have presented Juan Orlando Hernández, president of Honduras, with their latest findings on a feasibility study for future Zones of Employment and Economic Development (ZEDE). The announcement, in New York City on Monday, revealed three projects to facilitate the first ZEDEs.
Contento de tener en mis manos el Estudio de Factibilidad que nos permitirá el desarrollo en la Zona Sur del país (1)

— Juan Orlando H. (@JuanOrlandoH) September 23, 2014
Será en esta zona donde construiremos la primera "Zede" Zona Especial de Desarrollo Económico. (2)

— Juan Orlando H. (@JuanOrlandoH) September 23, 2014
Satisfied that the feasibility study in my hands will allow us to develop the southern coast of the country. In that area, we will build the first Zone of Employment and Economic Development.
Roberto Ordoñez, infrastructure and public works minister, declared the state's satisfaction: "this opens the possibility of a Honduran ZEDE." He also stated that this will be long-run project that will need an international campaign to search for investors.
Indeed, the feasibility study is ongoing. KOICA officials will present the complete report in the first quarter of 2015.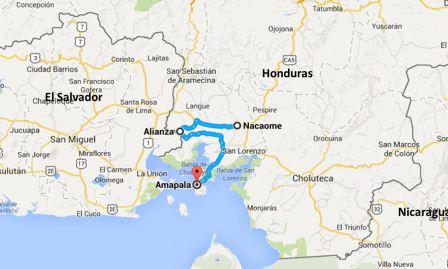 The next steps they propose, though, are three support components on the Gulf of Fonseca: a logistics zone in Alianza Valle municipality, a port in Amapala, and a center for agricultural research and development in Nacome.
Mark Lutter, a fourth-year candidate in the economics PhD program at George Mason University, affirmed with the PanAm Post the importance of this step towards implementation: "After the initial passage of the law, the process requires very little government involvement; in that sense, Honduras is ready to host the ZEDEs."
Lutter explained, "The main advantage of ZEDEs is their ability to import first world institutions. With the rule of law and strong property rights, a ZEDE is just a large construction project."
100,000 New Jobs
Reinaldo Sanchez, Honduran minister of the presidency, explained that after reading the progress of the study, the Honduran government expects at least 100,000 new jobs for the region — a number that comes across as ambitious and daunting, given perilous criminality in Honduras.
Octavio Sánchez Barrientos, a member of the ZEDEs Committee for Adoption of Best Practices, expressed to the PanAm Post his belief that these projections will come to fruition: "While [crime] can be a problem in a DR-CAFTA countries, Honduras is close to creating a uniquely investment-friendly jurisdiction in the region."
Low taxes, a common-law jurisdiction … and investment friendly laws can create big incentives.
For Sánchez Barrientos, once a company decides to invest in the CAFTA-DR region and the ZEDEs are in operation, this will be the best place to put their money.
The opportunity to adopt the world's best known practices, written into investment contracts, guarantees stability and will be unique in this part of the world: "Low taxes, a common-law jurisdiction … and investment friendly laws can create big incentives."
Lutter, shares the same belief as that of Sánchez: "The crime rate is a negative aspect, but ZEDEs offer more than enough compensating differential to attract foreign investment."
Future Steps for ZEDEs
At this moment, members of the Committee for Adoption of Best Practices are discussing the process to issue rules for incorporation within the Honduran legal jurisdiction, as confirmed by Sánchez Sánchez Barrientos.
The Honduran central government will also need to create a strategic plan for the financing, construction, and supervision of the future projects needed for ZEDE implementation. For example, this is likely to be necessary for the construction of a bridge to unite Amapala Island with the city of Nacome on the mainland, and the proposed port in Amapala with a terminal station in Palmerola.
On Octuber 2, a Honduran delegation, alongside KOICA officials, will visit the Inter-American Development Bank (IDB) and seek to muster funds for ZEDES. With these aggressive actions, Honduras plans to launch the first ZEDE in Central America by 2016.
Correction: Mark Lutter is in his fourth year of his PhD, not his first.