Español
Albeit in the conceptual stage, Costa Rica is taking steps towards the implementation of Special Economic Zones (ZEEs), as revealed by a September 14 statement at a ministerial meeting in Cartago City. President Luis Guillermo Solís signed a decree of public interest regarding a ZEE for Turrialba (ZEET), a town in central Costa Rica, for the promotion of employment and economic development.
Declaramos de interés público la Zona Económica Especial de Turrialba y Jiménez, para impulsar el desarrollo de las comunidades.

— Casa Presidencial ?? (@presidenciacr) September 15, 2014
We declare public interest in the Special Economic Zone of Turrialba and Jiménez to stimulate the development of the municipalities.
"Turrialba is a zone with enormous potential, not only for Cartago, but for Costa Rica," Solís remarked at the gathering. "Turrialba has the raw materials, and with this decree the government wants to boost its productive development."
The statement affirms few details about the nuts and bolts of the ZEEs, but a desire for greater innovation and higher-value industries.
Victor Morales Mora, employment and social security minister, alongside Welmer Ramos González, minister of the economy and industry (MEIC), also signed the decree. Both officials sought to emphasize the administration's support for entrepreneurship, particularly small and medium-sized ventures. They also claimed to be focused on exports produced in the town of Turrialba.
Ramos González said the broader strategy behind the declaration — to be implemented within existing free-trade legislation — will allow public-private partnerships to blossom in the ZEET. Such partnerships are a stated priority of the Solis administration, as affirmed in his National Strategy for Production and Employment.
Morales Mora praised the work of his colleagues and explained the spirit of the decree: "We are giving emphasis to productive development … to the creation of jobs, and therefore, the fight against poverty. That is why the decree gives special priority to the creation of opportunities for women, young people, and people with disabilities."
China: A Potential Backer of Special Economic Zones
Then on Wednesday, International-Commerce Minister Alexander Mora shared that the Solís administration is in negotiations with China, to develop ZEEs beyond Turrialba. Mora has held meetings with representatives from the China Development Bank, which prepared the first conceptual examination into the ZEEs opportunity. The representatives have also expressed interest in financing a follow-up feasibility study in the next few months.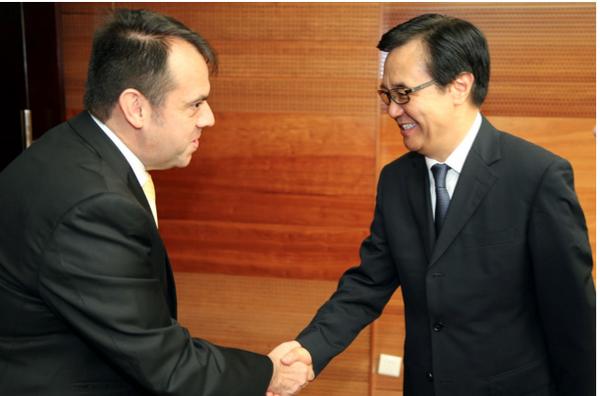 "Our goal is that by no later than the first half of 2015, we will be able to announce the list of companies that wish to place themselves in the ZEE industrial parks," Mora declared regarding meetings that took place last week.
Mora also identified the five municipalities recommended ZEE hosting: an industrial park in Puntarenas and satellite locations in Limón, Turrialba, San Carlos, and Liberia.
The objective of the feasibility study will be to identify more municipalities to host ZEEs, as opposed to writing off others. If more offer potential, they may be ripe for integration, especially in the south of Costa Rica.
Mora dismissed fears of too much specialization and intense competition in each ZEE. Rather, the goal of the project, he explained, will be for each region to cater to diverse industries: "We foresee companies producing many goods, from solar panels to electric vehicles. There is a world of opportunity."
Laura Bonilla, president of the Chamber of Costa Rican imports (CADEXCO), supports the pace at which Costa Rican authorities are handling the negotiations with China and has expressed hope for the plan.
She says that CADEXCO has been promoting the idea of an agro-industrial park in northern Costa Rica, given its established infrastructure and fertile land. Even with limited clarity on what the ZEET and ZEEs may look like, Bonilla sees potential for local companies, in need of space to invest in physical capital. In fact, the Costa Rican Potato Producers Association, in conjunction with the Ministry of Agriculture, shall study how a new jurisdiction could be adapted to favor their harvesting needs.
Another goal of the meetings with Chinese officials will be to develop a ZEE model that avoid legal hurdles and potential stumbling blocks with local referendums — instead remaining within the free-trade zone legislation already in place.
The talk of financing for the Costa Rican initiative has coincided with a Moody's credit-rating downgrade for Costa Rica, due to institutional instability and a precarious fiscal balance. This lack of confidence could spell bring troubles for the ZEEs, should they depend on foreign funding.