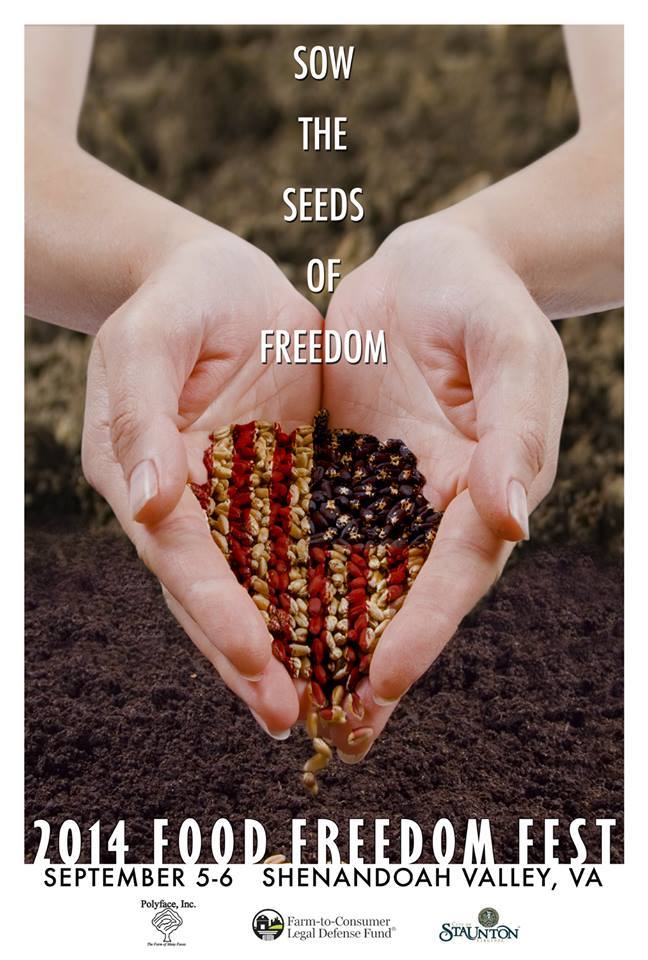 EspañolOver the weekend, Shenandoah Valley, Virginia, hosted the first ever Food Freedom Fest (FFF). Launched by the Farm-To-Consumer Legal Defense Fund (FTCLDF), it was a celebration of choice in agriculture and nutrition.
Approximately 200 advocates united for the educational event, where they addressed the myriad of regulations that exist in the United States, along with ways around them.
Liz Reitzig, founder and media spokesman for NourishingLiberty.com, was one such attendee, and she shared her motivation with the PanAm Post. A close ally of FTCLDF, she has worked on their public relations and wants people to be able to "peacefully procure the foods of their choice from the producer of their choice through voluntary exchange with other free human beings" — the cause to which she dedicates her blog.
Food Freedom Fest, she says, was "to bring attention and awareness to the regulatory and legal challenges our farmers are facing and to raise funds for their legal defense."
The greatest thing that ever happened to small farmers! @NourishLiberty @FTCLDF #FFF #foodfreedomfestival pic.twitter.com/KC9jSbG6Fp

— Melissa Henig (@RawPaleoMelissa) September 5, 2014
The FTCLDF is a nonprofit whose members seek to protect vulnerable entities, such as family farms and artisanal-food producers. They may wish to provide both processed and unprocessed foods directly to consumers, but find themselves criminalized along the way. FTCLDF also assists consumers, as both face harassment and interference from government officials.
https://twitter.com/KristinaRibali/status/507931420191649792
Republican US Congressman Thomas Massie, from Kentucky's 4th Congressional District, was a keynote speaker. He made headlines earlier this year when he introduced two bills in favor of freedom to trade raw milk, including across state lines, and he has more "food freedom" bills on the way.
However, according to fellow FFF speaker David Gumpert, "Massie was pessimistic about the chances of actually passing anything in the House of Representatives. Indeed, it isn't even likely the legislation will get a hearing."
"The dairy industry went apoplectic when we introduced the legislation," declared Massie. "My wife said she didn't know the lactose industry was so intolerant."
Listening to Joel Salatin our country's most innovative farmer at Food Freedom Weekend! Staunton, VA #foodfreedom pic.twitter.com/idp9dTUMEj

— Thomas Massie (@RepThomasMassie) September 5, 2014
One big hit at the FFF was Joel Salatin, a self-described "Christian-libertarian-environmentalist-capitalist-lunatic-farmer." He called on advocates to "re-position themselves," to get their ideas taken more seriously by mainstream media. In particular, he promoted a different view of safety than that of regulators and corporate food companies, to counter the idea "that coke is safer than raw milk." And to the sustainable-food producers, "Be the lunatic fringe of innovation."
During the event, the host city of Staunton conferred a leadership award to Salatin, for his important efforts to promote and teach local, sustainable agriculture.
A Long Way to Go for Food Freedom in the United States
Reitzig, a mother and gardener alongside her advocacy work, explains that "US regulations on farmers are overly burdensome. They are disproportionately onerous for small producers. Additionally, many regulations are there to keep smaller producers from viable income. So essentially, it's to protect big industry."
Gary Cox, one of the co-founders of the FTCLDF, presented at the event and reviewed the organization's seven-year history. As its chief trial lawyer, he said that regulatory enforcement has shifted emphasis from raw milk to zoning: "We hardly ever see a raw-dairy case any more… It is interesting how local-zoning cases are most important to government right now."
Cox sees the battle only becoming more fierce, with clashes over locally produced meat and food sovereignty "sweeping the nation." He alluded to the Food Safety Modernization ACT as the source of most fireworks, as the US Food and Drug Administration tightens its control over intrastate commerce: "The FDA is putting its finger into everything,"