EspañolMore of the Same from the Incumbent
Under the slogan of "we have done a lot, but there is still a lot to do," current Colombian President Juan Manuel Santos has put forth his official platform. What does he see as his best chance at winning in the next election? A continuation of the past four years.
"Today, we can tell Colombia that in this campaign, there are plans. We have not improvised, and we are not going to improvise. We have the experience and the maturity to guarantee we will achieve the goals that we have set. We are going to take the achievements of our first four years to the next level," said the president campaigning for a new term.
His plan for the economy is called "A Modern, Entrepreneurial, and Sustainable Country." Santos emphasizes entrepreneurship in Colombia to create more jobs, help the agricultural sector recover, invigorate the industrial economy, support the mining and energy sector, and promote more tourism.
Already, the Colombian economy is very dynamic. The country does not depend on a dominant good or service and is well diversified. It is the world's fourth largest producer of coffee, the second leading exporter of flowers, and the fourth largest oil producer in Latin America, 25th worldwide.
During a 2013 conference called "Colombia in the Eyes of Wall Street," Roberto Sifón-Arévalo of Standard & Poor's explained that among the strengths of Colombia's economy is the national consensus toward its economic policy to supports growth and boosts confidence for investors.
In addition, after fiscal reforms, Colombia is now less vulnerable to international economic crises, has more developed local capital markets, and growing liquidity.
On the other hand, Colombia's economic weaknesses are found in an inadequate infrastructure that hinders the growth of its gross domestic product (GDP), various political feuds that prevent agreements on public spending and development, ongoing conflicts with armed guerrilla, and organized crime.
Aware of these challenges, Santos argues that peace negotiations with the Revolutionary Armed Forces of Colombia (FARC) will help to improve the country's economy. According to his administration's calculations, the peace agreement will add two percentage points to the GDP, amounting to a tax-revenue gain of COL$15 trillion (approximately US$8 billion). Santos has said, if elected, these funds would be used to broaden pensions and social security coverage, triple the spending for state universities, and the construction of free-housing projects.
Santos also advocates raising public debt as the principal option to finance what his anticipated revenues may not cover. He has assured the public that the post-conflict era in Colombia will bring more foreign-loan and credit opportunities with better payment options.
Zuluaga's Renewal Plan for Colombia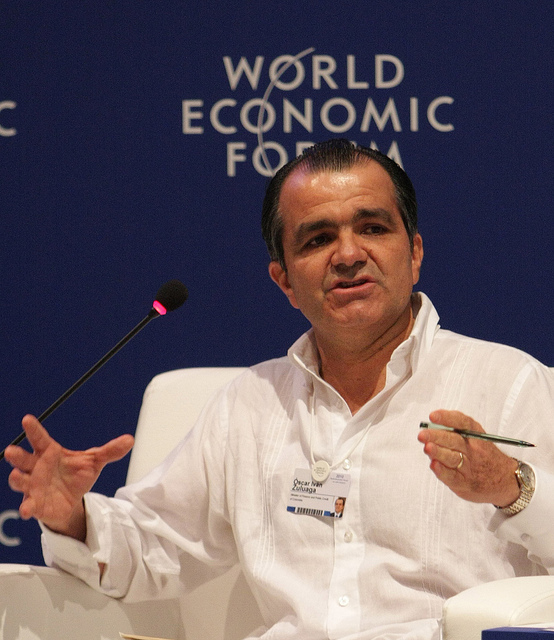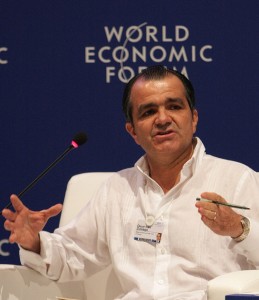 Within a very detailed economic platform, Óscar Iván Zuluaga outlines his main objective to build a solid economy that investors can trust. His economic agenda includes a flexible national budget, more efficient public spending, a simpler and more effective tax system, and a new fiscal framework for local entities. He also hits the buzzwords of transparency and fiscal responsibility.
Zuluaga agrees that it is not necessary to change Colombia's monetary policy, but he wants to increase the level of investment and create a better business climate. His plan focuses on housing, medical care, education, job opportunities, infrastructure, agriculture, and security.
As for agriculture, Zuluaga wants to develop opportunities for small producers to invest. In order to achieve this, he plans to issue loan forgiveness for small farmers, reduce the price of basic materials used on farms, and eliminate the value added tax (VAT) on agricultural machinery and equipment.
Zuluaga is also offering to transform campesinos into small-business owners by establishing technical advising programs in innovation, science, and technology, and to give additional support to special areas of industry, such as coffee and dairy production.
Zuluaga's economic team says that these proposals are consistent with long term Colombian government finances, and is proposing greater public-private cooperation as a central part of his policies.
In order to finance his proposals, he plans to maintain the "4 per thousand" tax on financial transactions and the estate tax, which amounts to COL$10.5 trillion (approximately US$5.5 billion) per year. This would be in addition to a governmental austerity proposal that will add COL$3 trillion (almost US$1.5 billion) per year. Zuluaga also suggests combating tax evasion to increase revenue.
The goal of his administration would be to achieve 6 percent GDP growth, for an optimistic GDP return of 30 percent on additional government spending. If true, it would generating another COL$7 trillion (US$4 billion) per year.
A Mixed Year for Colombia's Economy
According to Sandra Rodríguez, professor and director of the Institute for Economic Research at Uninorte (IEEC), Colombia closed out 2013 with a GDP growth rate of between 3.8 and 4 percent, which puts the nation above the Latin-American average. The Colombian Ministry of Finance registered an inflation rate of 1.94 percent, and according to the National Statistics Department (DANE), there are 22 million people in Colombia employed, while 2 million remain unemployed.
These positive figures contrast with an underemployment rate of 32.5 percent, a poverty rate of about 32 percent, extreme poverty of 10.1 percent, and informal occupation at 49 percent.
Foreign trade suffered in 2013, Rodríguez explains, as a result of various agricultural and transportation strikes and increased insurgent incursions that dissuaded entrepreneurs and buyers. The bureaucratic trade process itself also conspired to decrease exports.
The main challenge that the incoming administration will face then will be to maintain the growth of this dynamic economy despite growing obstacles that have already impeded Colombia's potential for over 50 years.