EspañolSince the advent of the smartphone, the internet has become ever more present in our lives, turning traditional industries upside down and changing the way we go about our daily tasks. We are constantly on the verge of massive creative destruction, as economist Joseph Schumpeter would say.
Countless tech startups have jumped on the disruption train, and not only in Silicon Valley. In Argentina, culinary entrepreneurs are tackling one of our most ordinary tasks: preparing our own food. "We are competing with your own homemade cooking," says Nicolás Parziale, a software developer and founder of HoyPido.*
Just like remote storage, online music, and on-demand computing, HoyPido aims to be a "cloud restaurant."
"The idea of a restaurant in the cloud is that you have a chef and a kitchen available on your phone. You press a button, and food appears," he tells the PanAm Post. "Our mission is to be the most convenient way to produce, distribute, and sell food."
"Our chef offers three meals every day. All you have to do is go to the website, pick one from the menu, and forget about the rest," he explains.
The idea, Parziale says, came after realizing that there was a coordination problem at work during lunchtime. "We had to decide where we would eat, then all had to agree, and there was always someone taking too long to order. A lot of time was wasted this way. It didn't create team spirit, and needless discussions arose," he recounts.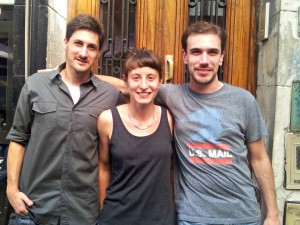 So, in 2014, Parziale teamed up with two partners — one with an arts degree, and the other with a bachelors in business administration — to cater to the time-constrained office workers in Buenos Aires.
HoyPido even accepted bitcoin from its inception.
Parziale says customers paying with cryptotcurrency was much more common in the beginning, back when the company only delivered to five blocks in the Retiro neighborhood, where the Buenos Aires Bitcoin Hub is located.
"Three months ago, we were only available in two neighborhoods. Now, we serve 13," he says, adding that orders in bitcoin have increased only gradually.
United by Apps
Since HoyPido doesn't have its own store front or kitchen, it's hard to tell whether it's a restaurant with an app, or an app with a restaurant.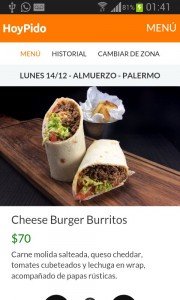 Technology, however, definitely plays a part in every step: "cook, delivery, and client. Each one has a different profit margin, but they all use our software," Parziale explains. "The entire restaurant is technologically intervened, with apps for the kitchen, for the node operator, and the delivery guys."
"The delivery guys know that they can serve more customers through our app than anywhere else; they earn larger profits within our system that outside of it. We rely on state of the art technology to pick the best possible route and estimate how long the delivery will take," he says.
"We have over 250 tried and tested meals," Parziale boasts. Clients can review their past orders and know which meals they consume the most. "You can [also] get dietary information; most people don't keep track of what they eat everyday. [With HoyPido,] you can get a much more transparent record of your eating habits."
The End of Kitchens?
HoyPido doesn't see itself competing with the delivery services of traditional restaurants, where the occasional pizza, sushi, and empanada dominate dinner take-out orders. Instead, Parziale says that what his company is trying to do is optimize what, for most people, is a daily and time-consuming task.
"We offer meals that people don't even know exist. While you're working, you don't think about cooking; you have 200 unanswered emails, and you don't want to lose 30 minutes ordering from a traditional restaurant, not knowing whether it will arrive in five minutes or two hours," he says. "You could always take two hours to go to the supermarket and cook — assuming you know what you have to buy, how to cook, and prepare different meals."
Their long-term goal is to make HoyPido cheaper than cooking at home. "Think about all the extra time you would have if you didn't have to shop for groceries, cook, and worry about what to cook; you could be much more productive," he contends.
We cannot imagine our homes without kitchens, but Parziale believes that "in an ideal future, that room won't be there anymore." Will the kitchens of the future become a luxury for cooking hobbyists? Only time will tell.
*Editor's note: the author of this article is regular client of HoyPido.