EspañolIn the popular market of Comayagüela, located in the Honduran capital of Tegucigalpa, women know that walking around with blond hair may attract them unwanted attention — and even end up costing their lives.
Women in Tegucigalpa claim that members of the maras — the violent gangs that dominate the northern part of Central America — routinely "suggest" to blondes that they change their hair color in order to guarantee their safety.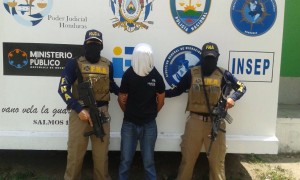 "I was told to dye my blond hair to protect the neighborhood. The next day I did it, but two days later, the wife of a marero told me I had to have a darker hair color, since they didn't want anyone with blond hair in the neighborhood," Carolina, not her real name, told Honduran daily La Prensa.
"Members of the 18th Street gang rule here, and they tell us they do these things for security. I have dyed my hair blond since I was 15, and now I can't."
"They said only women from Los Chirizos are allowed to have blond hair," Carolina explained, referring to a rival group to the notorious Mara-18.
According to multiple testimonies, the gangs use hair color as means of identifying "their" women when collecting extortion money from local businesses and markets known as the "war tax."
"All the women from the 18th Street gang now have black hair. When I saw that, I was scared, but they say that these instructions are meant to protect the neighborhood. Although I'm not blond anymore, I'm always afraid," Carolina added.
https://www.youtube.com/watch?v=lGKt3VrWfqw
The authorities, however, have described the claims as malicious rumors designed to "create a climate of insecurity and instability."
"There has never been any threat to women saying they could not enter the markets," police spokesman Leonel Sauceda argued.
To Yaacov Levi, an expert on counterterrorism and an international security consultant, the complaints are hardly far-fetched.
"Women of the Los Chirizos gang dye their hair blond, so the opposing gang, Barrio 18 — as it's known in Los Angeles — forwarded this message in the Comayagüela market: 'If your hair is blond, we will think you belong to Los Chirizos, and we will kill you,'" Levi told the PanAm Post.
Earlier this week, gang members attacked a 41 year-old woman and severely wounded her in the neck with a knife. After the attack, her daughter denied reports that she had been attacked because of her blond hair color.
Hair color is apparently not the only fashion choice that gang members are concerning themselves with. Locals are also prohibited from wearing black or animal print leggings, satchel-style handbags, and shirts in certain colors. According to anonymous reports cited by La Prensa, gangs have also banned the use of Nike shoes by men.
"That rumor was spread, but it was never confirmed. That of the clothing is another invention, just like what they said about the blond hair. These people are specialists in generating fear in the population," the police representative maintained.
Dress to Kill
Gang members could be easily identified by the abundant tattoos covering their bodies and faces until recently. However, the "strong-hand" policy adopted by former President Ricardo Maduro (2002-2006) led the gangs to disguise their tattoos in order to keep a lower profile.
This in turn has prompted "a very serious security problem," as new generations of gang members turn to other more innocuous signs to identify their rivals.
"If someone sees a person aged between 15 and 30, with short hair, wearing jeans, and Nike sneakers," he'll probably get out of there fast, because that's likely a gang member, Levi suggested.
Doris Gutiérrez, a legislator for the opposition Christian Democratic Party, urged the police to take the reported threats seriously.
"Right here in Congress, there are people who have had to dye their blond hair out of fear. We have talked to the Commission on Gender to see what we can do here in the legislature," she said.
"Even if it is a rumor, I know women who have changed their hair color as a result," Gutiérrez argued, suggesting that security agencies should maintain an undercover presence in the capital's markets.
Central America is one of the world's most violent regions, despite not being home to any inter-state conflict.
According to the Observatory of Violence at the National Autonomous University of Honduras, the country closed 2014 with a rate of 66 homicides per 100,000 inhabitants. Of the 5,936 victims, 90.9 percent were men and 8.9 percent women.
Nevertheless, murder rates have fallen somewhat since 2011, when 90 homicides took place per 100,000 inhabitants. In the same year, the global average was seven murders per 100,000 inhabitants.