EspañolUS President Barack Obama is now on board with confronting the Chavista regime in Venezuela. At least on Thursday he signed legislation to impose sanctions on Venezuelan officials who perpetrated human-rights violations during and after the anti-government protests earlier this year.
The Venezuela Defense of Human Rights and Civil Society Act of 2014, approved by Congress one week prior, authorizes President Obama to freeze assets in US territory and suspend or deny travel visas for anyone who "perpetrated, or is responsible for ordering or otherwise directing, significant acts of violence or serious human rights abuses in Venezuela … and those who provided financial and material assistance to commit those acts."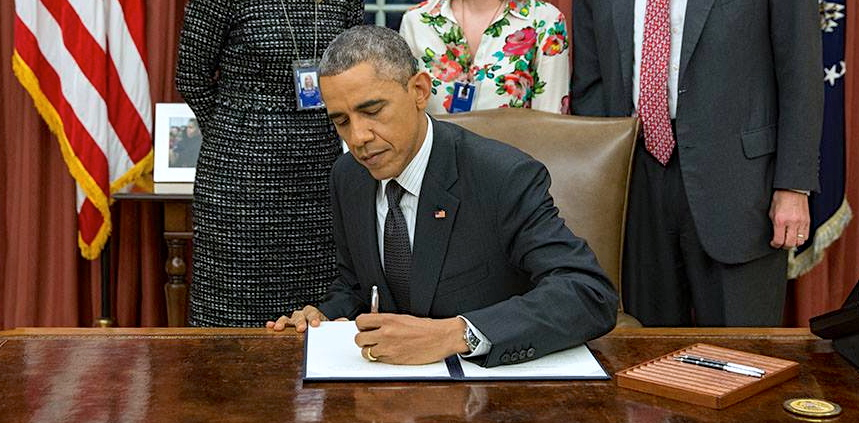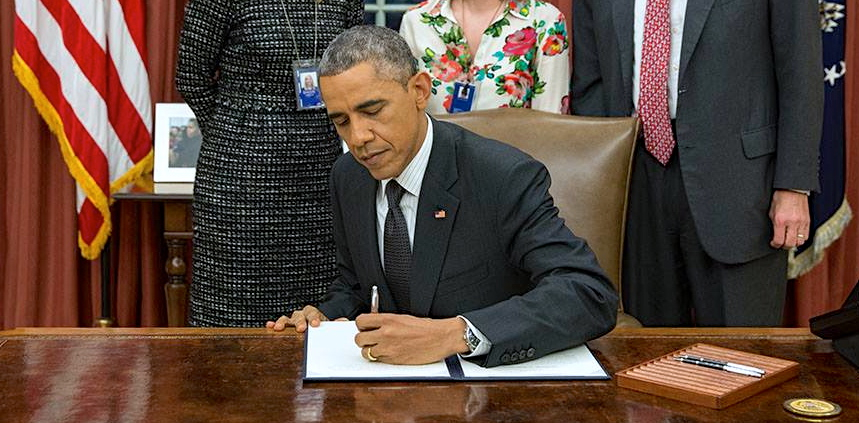 Venezuelan President Nicolás Maduro responded that Obama's action is a "false step," just one day after the US president announced the normalization of diplomatic relations between Cuba and the United States. He also took to Twitter to express his dissatisfaction.
Por un lado reconoce el fracaso de las políticas de agresión y bloqueo contra nuestra hermana Cuba quien con dignidad ha resistido y vencido

— Nicolás Maduro (@NicolasMaduro) December 18, 2014
"On the one hand, [Obama] acknowledges the failure of the aggressive politics against our sister Cuba, who with dignity has resisted.
Y por otro lado inicia la escalada de una nueva etapa de agresiones a la Patria de Bolívar en medio del rechazo total de nuestro pueblo…

— Nicolás Maduro (@NicolasMaduro) December 18, 2014
On the other hand, he is escalating a new stage of aggression against Bolivar's homeland, amid the rejection of the whole of our people.
Senator Marco Rubio (R-FL), one of the authors of the bill, explains that "these sanctions will go after Maduro regime officials and thugs who have spent all of 2014 authorizing and carrying out assassinations, beatings, unjustified incarcerations, kangaroo court trials, and absurd indictments of its political opponents and innocent Venezuelans demanding a better future."
A Reuters source from the US Embassy in Caracas echoes Rubio's sentiment, that "These sanctions are not against the Venezuelan people, or against the Venezuelan government as a whole but against individuals accused of violations."
After Congress passed the sanctions, however, Maduro rejected them on nationalist grounds and called on Venezuelans to rally in opposition: "We don't accept insolent imperialist sanctions."
On Wednesday, Diosdado Cabello, president of the Venezuelan National Assembly, also published a defiant op-ed in the New York Times. He suggested that the sanctions were a smokescreen to hide the fact that "scores of people demonstrating against police brutality were being arrested" in the United States.
"It would be regrettable if sanctions against Venezuela, first opposed by the White House, now became a way for the Obama administration to appease those in Congress who oppose the historic restoration of relations between the United States and Cuba," he wrote.
Already this year, in July, the US State Department suspended the visas of 24 Venezuelan officials accused of human-rights violations during the February anti-government protests that left 43 people dead.
The United States and Venezuela have not had resident ambassadors since 2010, when the late Hugo Chávez and President Obama expelled their ambassadors from Washington, DC, and Caracas respectively.
Fergus Hodgson contributed to this article.